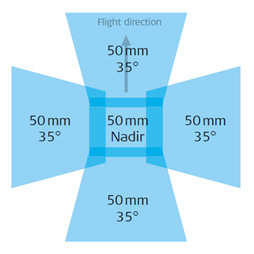 Local communities are no longer limited to the vision in 2D and require more and more 3D modeling of urban areas. This modeling can be done in two ways:
By using a vertical camera building leaning of the edges of images. In this case we need to set a strong lateral and longitudinal overlaps so that to shot the 4 facades of each building.
The second method is to use an oblique penta camera that allows the simultaneous acquisition of vertical pictures (nadir) and oblique (front / rear and left side / right).

These photogrammetric cameras allows the building facades texturing with a high precision draping.