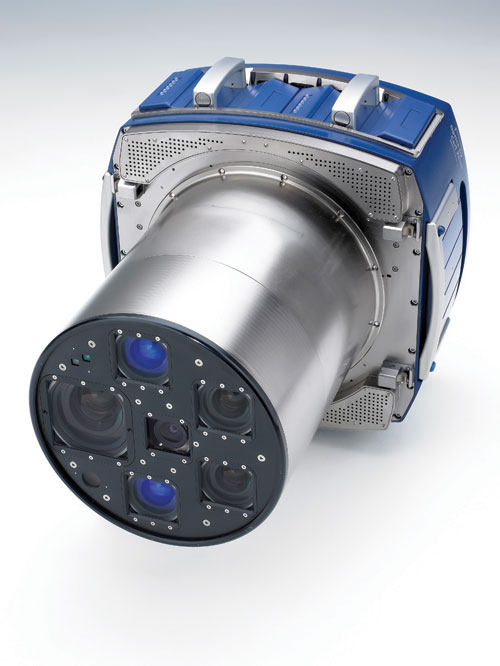 To meet your specifications, we can use at least 3 digital cameras. We operate our digital cameras since 2004 and we are a service provider recognized for our quality and rigorousness.
We use the Leica software suite for preparing flight plans. This is an essential phase for the effective respect of your requirements. Indeed, our MissionPro software integrates a highly accurate digital terrain model which adapts flight lines regardless of the state of the relief: The sidelap and along track overlaps and the GSD are respected everywhere in the area.
All cameras are installed on gyrostabilized platforms which continuously compensate the aircraft movements to maintain the verticality of the camera.
For the trajectory, our cameras are equipped with inertial high resolution coupled with dual frequency GNSS receiver. The combination of these data allows us to position each image in space (X, Y, Z, Phi, Omega, Kappa) with a relative accuracy of 10cm.
The vertical aerial images are mainly used for orthophoto production and photogrammetric maps, but are also commonly used for communication or to create virtual 3D models (see Applications).


Specifications DMC
Ground sample distance from 60cm to 3cm/pixel
RGB images, Panchromatic, RGBN or IRC in 8, 12 or 14 bits
Trajectory GNSS/IMU in the desired coordinate system
Building leaning following sidelap and overlap.
Resources and production capacity
1 digital camera Z/I Imaging DMCIIi
1 digital camera Z/I Imaging DMCII/250
2 digital camera Z/I Imaging DMC
1 digital camera (middle format) Leica RCD30
1 digital camera (middle format) PhaseOne
Leica Mission Pro for flight planning
Z/I PPS and HxMap for radiometric and geometric images processing
Leica IPAS TC/Co+ and Inertial Explorer for trajectory processing
Download

Data sheet DMC

Data sheet DMCII/250

Data sheet DMCIII