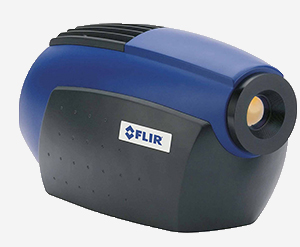 Thermography is a non-contact temperature measurement using a thermal infrared camera. Using thermography, you can measure the "radiative flux" emitted by the surface of a target object. The thermal infrared camera placed on board an aircraft can measure the electromagnetic radiation emitted by the target object.
The optimal time for shooting most applications is the fall/winter season. Thermal images must be taken before dawn and without snow cover.
In order to complete its aerial acquisition offer, APEI has equipped itself with a FLIR SC5600-M thermographic camera.
This equipment, coupled with our other acquisition means (lidar, visible and near-IR photography, inertial power plants,...) allows us to offer our customers a complete system for mapping heat emissions on areas ranging from the roof of a building to a complete urban area.
Buildings represent nearly 40% of the country's total energy expenditure. Thermography provides a powerful tool for diagnosing heat loss from the building's roofs and raising residents' awareness of roof insulation defects.
Applications
Heat loss from buildings: registration of heat loss through the roofs of buildings, shots of entire cities
Resource networks detection (water supply, heat supply, gas networks and oil pipelines ...) located under and above the surface and location
Distribution Analysis, Diagnosis, fault detection, prevention of damage, insulation control of pipes.
Discharges, deposits, clusters, hoppers, land and contaminated sites.
Geology, Research tectonic disturbances, contamination.
Hydraulic structures, dams, water level of contamination.
Monitoring dumps
Climate analysis, monitoring of urban areas during hot days.
Underground constructions, old mine workings, archeology.
Monitoring the situation of animal populations …
Download

FLIR SC5600M data sheet